Motus GI Announces First Upper GI Patient Procedure for FDA Cleared Pure-Vu® EVS Gastro
Return to news
- - -
The upper GI procedure was performed by Dr. Brian Hanson, gastroenterologist and Assistant Professor, Medicine, at the University of Minnesota
- - -
Pure-Vu EVS Gastro addresses the Upper GI market, an area of high unmet clinical need, including approximately 400,000 cases of upper GI bleeds per year in the U.S. according to iData Research Inc.
FORT LAUDERDALE, Fla., Nov. 10, 2023 (GLOBE NEWSWIRE) -- Motus GI Holdings, Inc. (NASDAQ: MOTS) ("Motus GI" or the "Company"), a medical technology company focused on improving endoscopic outcomes and experiences, announced today that the Pure-Vu® EVS Gastro was successfully used in the first procedure since receiving FDA clearance. The case was completed by Dr. Brian Hanson, Gastroenterologist and Associate Professor of Medicine, University of Minnesota.
"We appreciate Dr. Hanson and his team coordinating this first procedure with the Motus team as we bring on this new offering with the Pure-Vu EVS Gastro, along with our latest generation of the colon device," commented Mark Pomeranz, Chief Executive Officer. "It is exciting to clear the first procedure milestone so soon after receiving FDA clearance. We look to forward to implementing the planned U.S. market introduction of the Pure-Vu EVS Gastro. Currently, our team is working hard to allow us to place this new device and our next generation colon product in top hospital systems in order to establish a foundation of reference centers to support our strategic initiatives."
"I was looking forward to having the opportunity to try the Pure-Vu EVS Gastro device in an upper GI case, as Pure-Vu EVS provides enhanced irrigation and suction capabilities as compared to an endoscope. In this case, the patient presented with early satiety concerning for gastric outlet obstruction or gastroparesis and at increased risk of retained food debris in the stomach. We were pleased by the Pure-Vu EVS Gastro's easy setup. During the procedure, intubation of the esophagus was smooth and easy, and there was no change in technique. I was able to normally retroflex the scope with the Pure-Vu EVS Gastro attached, and use irrigation to clear the field of view," commented Dr. Hanson. "I am pleased by the product's performance and look forward to using it in future cases."
Pure-Vu EVS irrigation jets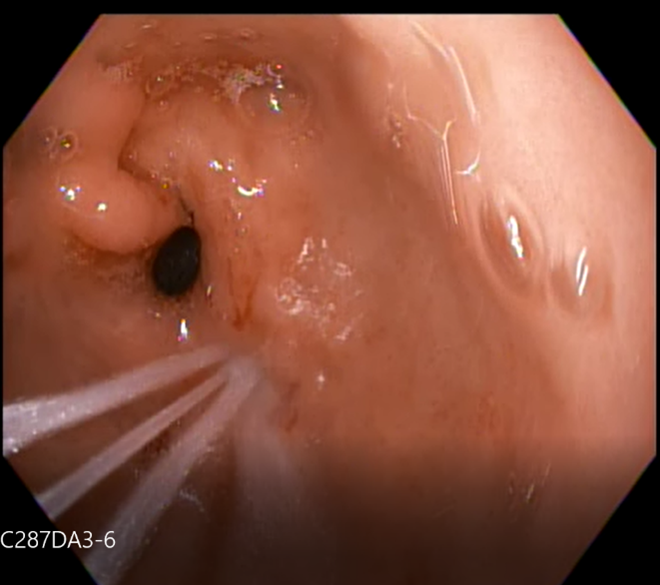 Caption: Pure-Vu EVS irrigation jets washing a biopsy site in the Upper GI tract
The Pure-Vu EVS Gastro, which received FDA clearance in late October 2023, opens the critically important upper gastrointestinal (GI) portion of the market and access to the high acuity patients that suffer from an upper GI bleeding where visualization to address this high mortality condition can be a significant issue. The Pure-Vu EVS Gastro builds off the success of the patented and proprietary pulsed vortex irrigation and smart sense suction used in the colon device and has been enhanced to target blood, blood clots and other debris in the upper GI tract.
Upper GI bleeds occurred in the U.S. at a rate of approximately 400,000 cases per year in 2019, according to iData Research Inc. The existence of blood and blood clots in these patients can impair a physician's view, making it difficult to identify the bleed source. The Company believes removing adherent blood clots from the field of view is a significant need in allowing a physician the ability to identify and treat the bleed source. The mortality rate of this condition can reach up to approximately 10%, as noted in Thad Wilkins, MD, et al., American Family Physician (2012).
About Motus GI Holdings, Inc.
Motus GI Holdings, Inc. is a medical technology company, with subsidiaries in the U.S. and Israel, providing endoscopy solutions that improve clinical outcomes and enhance the cost-efficiency associated with the diagnosis and management of gastrointestinal conditions.
For more information, visit www.motusgi.com.
Forward-Looking Statements
This press release contains certain forward-looking statements. Forward-looking statements are based on the Company's current expectations and assumptions. The Private Securities Litigation Reform Act of 1995 provides a safe harbor for forward-looking statements. These statements may be identified by the use of forward-looking expressions, including, but not limited to, "expect," "anticipate," "intend," "plan," "believe," "estimate," "potential," "predict," "project," "should," "would" and similar expressions and the negatives of those terms, including without limitation, statements relating to the reverse split, risks related to market and other conditions, risks inherent in the development and commercialization of potential products, possible or assumed future results of operations, business strategies, potential grow opportunities, uncertainty in the timing and results of clinical trials or regulatory approvals, maintenance of intellectual property rights or other risks discussed in the Company's quarterly and annual reports filed with the Securities and Exchange Commission, and its other filings with the Securities and Exchange Commission. Prospective investors are cautioned not to place undue reliance on such forward-looking statements, which speak only as of the date hereof. The Company undertakes no obligation to publicly update any forward-looking statement, whether as a result of new information, future events or otherwise, except as required by law.
Investor Contact:
Troy Williams
LifeSci Advisors
(518) 221-0106
twilliams@lifesciadvisors.com 
A photo accompanying this announcement is available at https://www.globenewswire.com/NewsRoom/AttachmentNg/48add491-5487-427e-adcb-8c39421e2cee

Return to news
Upcoming Life Sciences Events
November 2023

Biotechgate Digital Partnering November 2023

December 2023

Pharma-Biotech Product & Company Valuation with Dr. P Frei
Leiden: Dutch Life Sciences Conference